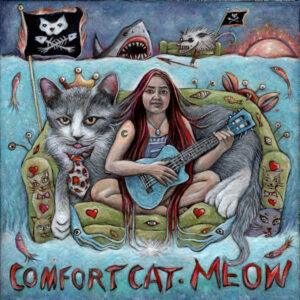 Comfort Cat – Lead Vocals, Ukulele, Violin
Jason Laney – Keys, Backing Vocals, Percussion
Dan Veksler – Bass, Guitar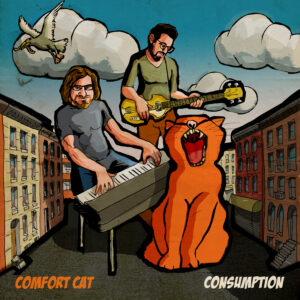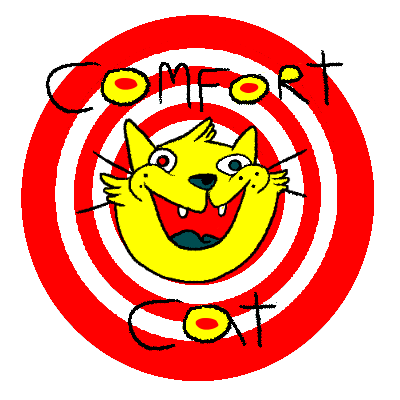 Long Bio
Comfort Cat created her name around 2014, when she realized how much she hated her former name. As a songwriter, Comfort Cat primarily performs with a guitarlele, a six-stringed instrument with the same intervals as a guitar but tuned up by a perfect fourth. Her main instrument is actually the violin.

Comfort Cat has a unique and dynamic voice. It has been compared to Karen O, PJ Harvey, Björk, Kate Bush, Janis Joplin, Tiny Tim, and others. It has also been described as genderless, neither female nor male, but simply human.
Most of Comfort Cat's music comes from a person trying to reclaim their sanity. Music is her preferred avenue of communication, because it is the only way she has ever felt listened to. You can't argue with a song. You can't yell at a song. You could try, but the song has no feelings to hurt, while simultaneously being a luxury vessel for them. If you suddenly get up and go to the bathroom while a song is playing, the song will not feel interrupted. It won't lose its train of thought. It will be there when you need it.
If you've ever felt like you can't exist. If you've ever felt thoroughly inappropriate. Burned so many bridges. If you've ever related to true crime villains, who "chose evil" in spite of their perfectly reasonable upbringing. If you have experienced madness and can recognize it in others with compassion and humor, you might enjoy Comfort Cat's music. It is her attempt to give actual substance to "You are not alone," an otherwise mindless reflex of the 21st century mouth.

Comfort Cat's present lineup consists of Comfort Cat as frontperson, Jason Laney on keys, and Dan Veksler on bass/guitar. She's known Jason since 2011 and Dan since about 2018. In between, she adopted a little gray cat named Jack in 2017, an occasional guest vocalist and official muse of the band.
Comfort Cat's prior members continue to be friends with the band, including jenno snyder and Thomas Bones. Comfort Cat has also collaborated with electronic musician Caleb Lowrey on the track, The N.P.C.
Comfort Cat works in the Greater NYC area as a teaching artist and violin instructor.
In 2020, Comfort Cat was awarded a $3,000 DCA Premier Grant from Staten Island Arts, with public funding from the New York City Department of Cultural Affairs, to fund their album, Consumption. They have also been awarded a 2021 $5,000 Arts Fund Grant from SI Arts for their upcoming album, meow, to be released in summer of 2022.
NYC venues: The Bitter End (2019), Connolly's (July 2019), The Well (April 2019), Legion Bar (March 2018), The Tiny Cupboard (October 2019) Otto's Shrunken Head (December 2018), Little Skips (May 2019), Niagara (August 2018)
Staten Island venues: O'Henry's Public House, The CANVAS Institute (February 2020), Every Thing Goes Book Cafe (January 2020), Mother Pug's Saloon (July 2019), Amendment 18 (May 2019), Art on the Terrace (May 2018), Hub 17 (July 2018), Craft House (June 2018).
Comfort Cat & Friends has also featured at the 2019 Kingston Antifolk Festival on 9/21/19. 
The Staten Island-based experimental catcore catpop artist Comfort Cat has been writing music, playing strings, and belting out tunes in bars for over seven years... . Comfort Cat's sumptuous but demon-soaked harmonies are often punctuated by wild shrieks of feral discontent: music that simultaneously abrades and soothes the soul, like the territorial roar of any domesticated predator establishing space.
"She accompanies herself with what she calls a guitarlele (or a six-string tenor ukulele), and a small string ensemble. But even with this small ensemble, she really plays with the volume. She goes between almost whispering to belting out in frustration with her magnificent voice. She sings with such flexibility and heartfeltness, it seems as if her voice rises from endless depths to land like a dust particle in our eye that we wipe away (i.e it's molto MOLTO espressivo)."