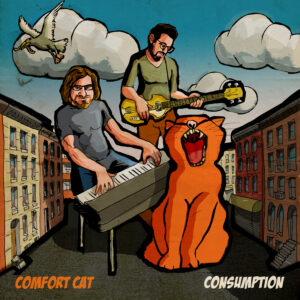 Comfort Cat & Friends is a New York City-based indie rock trio fronted by lead songwriter, "Comfort Cat," so-named because it's easy to pronounce and she's obsessed with cats. With Jason Laney on keys and Dan Veksler on bass/guitar, they've had their current lineup since 2019, but Comfort Cat has been performing original music since roughly 2011, and writing it for even longer.
Comfort Cat – Lead Vocals, Ukulele, Violin
Jason Laney – Keys, Backing Vocals, Percussion
Dan Veksler – Bass, Guitar
Releases
Album: Consumption (2021)
EP: shhh (2020)
Single: "I am married to the rain" (2020)
EP: spit (2019)
Single: "The Sound of Grass" (2018)
EP: sniff (2014)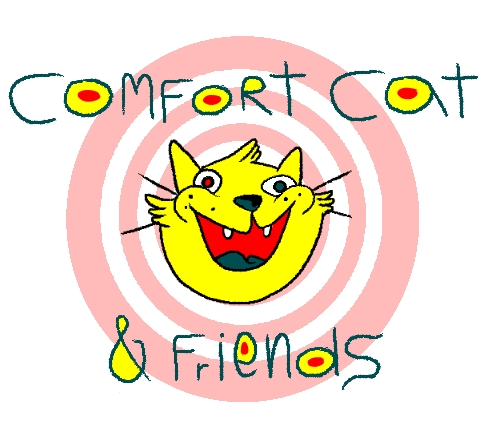 Long Bio
Comfort Cat created her name around 2014, when she decided she was tired of being introduced on stage with her legal name, which frequently gets butchered or misheard. This was also when she finished her master's degree in Songwriting from Bath Spa University in the United Kingdom, where she took her songwriting and recording career more seriously than before. Hitherto, her focus had been on the violin, with which she had hoped to be a session musician and join bands. While Comfort Cat's violin playing indeed appears on many tracks (including "Buy Into My Bullshit" – Ilya Popenko (2020), and 2 tracks on Aurin – The Pre-Inspired Symphony (2011)), she would eventually pursue her dream to become a frontperson of her own band.
Comfort Cat's musical background began with classical music, which she pursued at Sarah Lawrence College (2011), attending tuition-free through a special scholarship. She challenged herself with difficult repertoire, striving to expand her technical ability and prowess. This would all come crashing down when she studied abroad at Dartington College of Arts in 2009, a now-defunct arts college in the UK, where she became disillusioned with nearly all of her prior goals and values, and sought to completely reinvent herself as an artist.
Comfort Cat first met Jason Laney in 2011, when they started playing in various bands and performances together throughout New York City (usually with Comfort Cat on violin). Though they were fast friends, they would not start playing her original music in a serious capacity until 2018. Around this time, Dan Veksler took notice of their music and became an enthusiastic fan. Knowing that Dan was an exceptional musician himself, Comfort Cat asked if he would transcend the boundaries of "fan" and actually join the band. He accepted the offer, and in addition to playing bass and guitar in the group, he and Comfort Cat eventually co-wrote some songs together, including "Worms" (to be released on Consumption).
Prior to their current lineup, Comfort Cat & Friends has had other members in the past, who continue to be friends with the band, including jenno snyder and Thomas Bones. Comfort Cat has also collaborated with electronic musician Caleb Lowrey on the track, The N.P.C.
Though two band members live in Brooklyn, most of their shows have been in Staten Island, where Comfort Cat lives and works as a music teacher.
In 2020, Comfort Cat was awarded a $3,000 DCA Premier Grant from Staten Island Arts, with public funding from the New York City Department of Cultural Affairs, to be used towards their upcoming album, Consumption.
NYC venues: The Bitter End (2019), Connolly's (July 2019), The Well (April 2019), Legion Bar (March 2018), The Tiny Cupboard (October 2019) Otto's Shrunken Head (December 2018), Little Skips (May 2019), Niagara (August 2018)
Staten Island venues: The CANVAS Institute (February 2020), Every Thing Goes Book Cafe (January 2020), Mother Pug's Saloon (July 2019), Amendment 18 (May 2019), Art on the Terrace (May 2018), Hub 17 (July 2018), Craft House (June 2018).
Comfort Cat & Friends has also featured at the 2019 Kingston Antifolk Festival on 9/21/19.
The Staten Island-based experimental catcore catpop artist Comfort Cat has been writing music, playing strings, and belting out tunes in bars for over seven years... . Comfort Cat's sumptuous but demon-soaked harmonies are often punctuated by wild shrieks of feral discontent: music that simultaneously abrades and soothes the soul, like the territorial roar of any domesticated predator establishing space.
"She accompanies herself with what she calls a guitarlele (or a six-string tenor ukulele), and a small string ensemble. But even with this small ensemble, she really plays with the volume. She goes between almost whispering to belting out in frustration with her magnificent voice. She sings with such flexibility and heartfeltness, it seems as if her voice rises from endless depths to land like a dust particle in our eye that we wipe away (i.e it's molto MOLTO espressivo)."